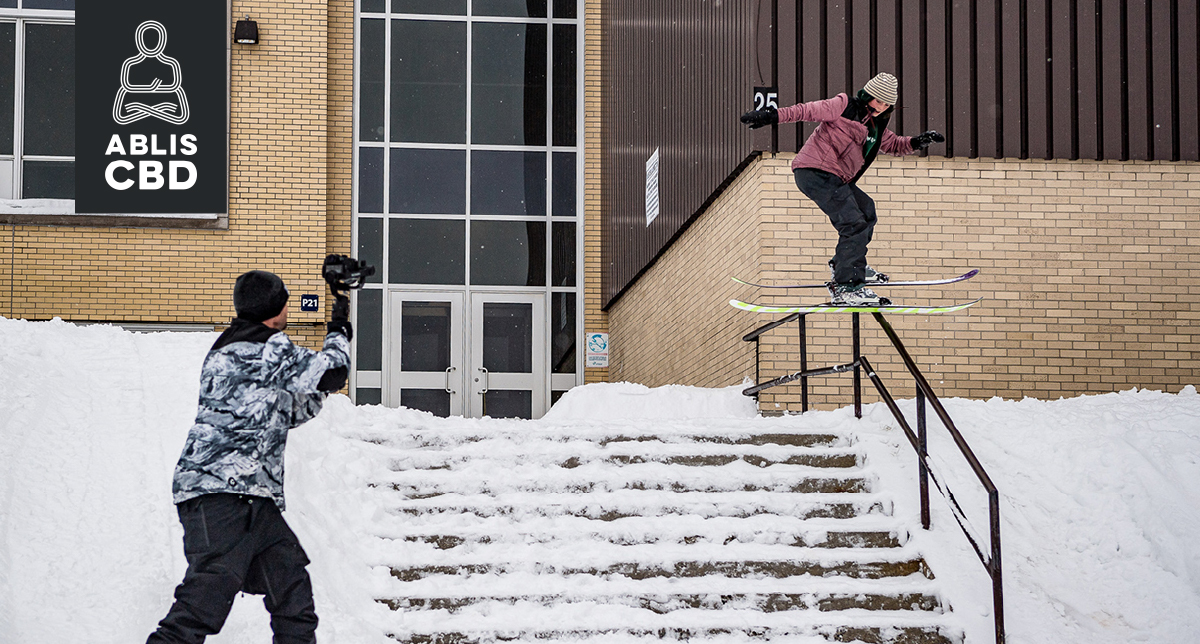 Meet Mckenna Brown: Professional Street Skier and Holistic Health Advocate
By Ablis CBD
Mckenna Brown started snowboarding—yes, snowboarding, not skiing—when she was six. She didn't put on a pair of skis until almost five years later, when she and her best friend decided to trade hobbies, just for fun.
"When I was eleven, my best friend and I swapped one day," said Mckenna. "Ever since then, I knew that skiing is what I'm supposed to be doing."
Her best friend's dad rounded up an old pair of skis and boots from the back of their garage and taught Mckenna how to ski. Nine years later, the Bend, OR, native is twenty years old. She's placed in several skiing competitions, and is now making waves (or should we say, tracks), in women's street skiing.
During her early teenage years, Mckenna was focused on training for competitions. She'd train at least four days a week. Ultimately, she was working toward the Olympics. Her training and dedication paid off, too—When she was 15, she placed second in both the rail jam and slopestyle competition at Nationals.
Although she was undoubtedly skilled, after spending several years in the competition circuit, Mckenna found herself becoming undoubtedly spent. She came to the realization that it wasn't really her goal to become an Olympic skier. She loved skiing—her "creative outlet"—but she didn't like the intense pressure that came with the competitions. She wanted to do something…different.
At age 16, Mckenna moved to Salt Lake City to live with a host family while attending her senior year of high school and training with the Park City Ski Team. In her spare time, she started skiing in the streets.
"I started dibble dabbling in the streets, which is pretty wild, and I'd film it," said Mckenna. "I realized that this was another realm within the ski industry. You film projects and sponsors love it, people love it. I love it. It's much more creative and free flowing [than competitive skiing]."
As Mckenna skied on home-made ramps and rails around town, she discovered that this type of skiing was much more her pace. She began spending more time street skiing, and now, several years later, focuses on skiing or filming projects.
"There are only ten or so girls who are currently active in the street skiing industry," said Mckenna. "I'm riding a very new train, and me and the other girls are trying to inspire more girls to get into it because it's really fun."
When she was competitive skiing, Mckenna says, she didn't work with many sponsors. In the street skiing space, however, she's worked with several sponsor companies to film her street skiing talent.
In 2020, she worked on an all-female film project in Quebec that highlighted the up-and-coming sport of women's backcountry skiing, free skiing, and street skiing. The other female skiers featured in the project were all older than Mckenna by several years (the second youngest person was 26).
"It was a sponsored project with other girls who were all really experienced, which was awesome," Mckenna said. "It's great that we were all a part of [the project], and I felt so deeply connected with Canada. The energy was incredibly magical. It's one of my favorite ski memories."
This is the first of many exciting skiing memories for Mckenna. Last year, she entered Level 1's SUPERUNKNOWN contest (a video contest for unpaid skiers). The video that she sent in earned her a spot to participate in the next part of the contest: meeting up with 2020 winners at a resort, and filming content with Level 1 at the resort's custom-build private park. Although the meet-up is currently on hold due to COVID-19, whoever stood out during the time at the resort would usually win a filming contract with Level 1 for a whole year.
In 2020, Mckenna was also invited to a rail jam competition at Dew Tour. She didn't place, but "getting invited was a big deal, to me at least, because people who are usually invited to [Dew Tour] are in the competition circuit and well known in the competition circuit," she says.
Even though she's no longer competing regularly, Mckenna is looking forward to going back to Dew Tour again in the future. And, even if Dew Tour is the only "comp" she attends all year, there's no doubt that Mckenna Brown is going to become a name to know in the female street skiing industry.
"I'd really like to create movies that impact [women's] skiing," Mckenna said. "Women's skiing is taken so seriously on the comp side of things. I want the younger generation of ski girls to know that there's more out there than 'become a professional competition skier or become nothing'."
Along with filming and skiing, Mckenna has also been studying holistic health and healing. She says that she's dedicating some of her time to learning about these things so that she can one day create a business outside of skiing that's focused on healthy living.
"I'm very into energy healing and connecting the physical with the emotional," said Mckenna. "Lately, I've been learning a lot about how focusing on an injury or stressing out about a pain in the body can send a stress response to that area and make it more inflamed."
This may be part of the reason why Mckenna is a fan of Ablis CBD tinctures, creams, and beverages: she says that she uses these things to calm her down when she's anxious or stressed, and uses creams especially to ease menstrual pains or muscle inflammation after a day of street skiing.
Yoga is another way that Mckenna takes care of her body and her mind. Ultimately, she says, a healthy life starts with thinking positively, having positive self-talk, and being aware of your self image. It's all about being in tune with your body. In her opinion, it's incredibly important to be in alignment with your happiest self.
"Whenever I'm in a negative mindset or have negative influences, it really blocks me from who I'm supposed to be," said Mckenna. "I didn't feel like I was worthy until I figured out what made me happy with skiing. Now that I know I want to put my energy into street skiing, I can really work towards a future with more of my passions."