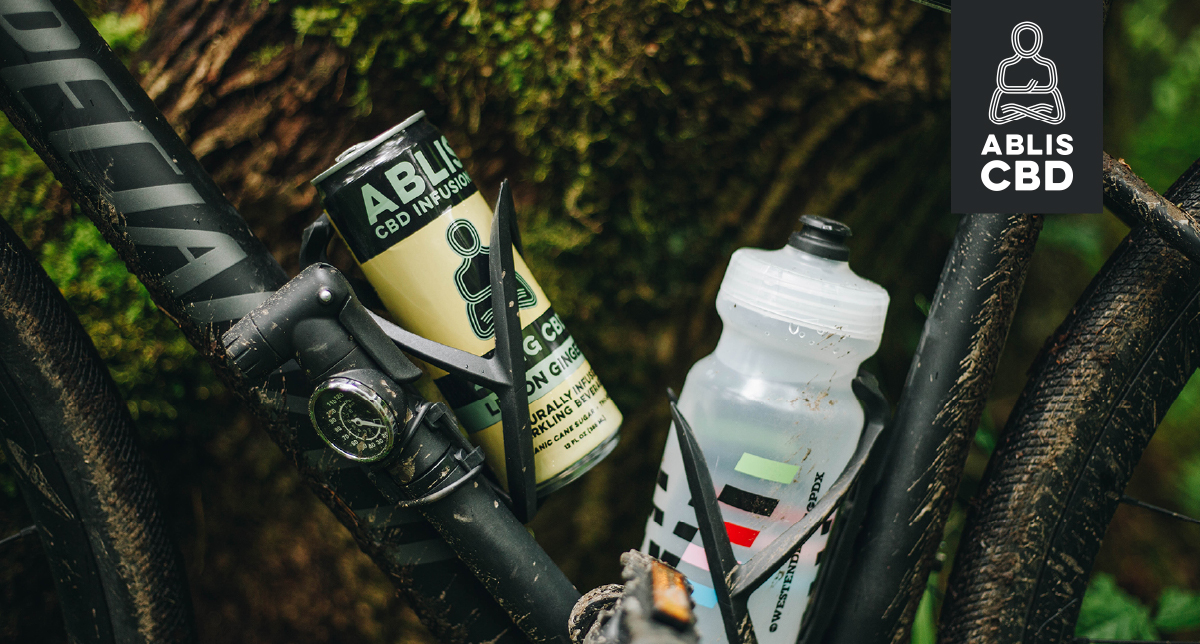 Central Oregon Trail Alliance – Win a New Bike by Supporting COTA
Staying active is a vital part of our company culture at Ablis – it's in our DNA.
Our whole team has really been into mountain biking lately.
In fact, Ablis co-founders, Jim and Max Bendis recently opened the Pinehurst Pump Track on their property here in Bend, Oregon, making it available to the general public (if you haven't checked it out already, what are you waiting for?!)
We are proud to be based in Bend, and our success with all-natural CBD products would not be possible without local support.
This summer, we're excited to give back to our community by raising money for the Central Oregon Trail Alliance (COTA) through the Ablis 2020 Bike Raffle.
The Raffle Details
What does it cost to enter? Where can I enter? What's the big prize?
You can buy tickets online at abliscbd.com for just $5. One lucky winner will get to take home a PBJ from Transition Bikes valued at $1,599. Ablis CBD has donated the bike, and all proceeds will go to our friends at COTA.
The PBJ has a steel frame with hardtail suspension, and it's one of the best models for pumping, bumping, and jumping – hence the name. It's stable at higher speeds on big jumps, but you'll also love how it rides on a narrow pump track. Weighing in at 25.9 lbs, this bike has 26" wheels and just 100mm of front travel.
The PBJ is an excellent bike for experienced riders who want to level up this year. It would also make a killer gift!
Another thing that we love about Transition Bikes is that they're another independent, local, small business! The rider-owned and operated mountain bike manufacturer is located just north of us, in the beautiful town of Bellingham, Washington.
A Little About COTA
The Central Oregon Trail Alliance is a non-profit that is near and dear to all of us at Ablis.
Everyone at Ablis has a unique connection to mountain biking. Some of us are more dedicated than others, but we're all about getting out on the trail and into nature as much as possible.
We encourage everyone to try mountain biking for themselves.
Pro-tip: You don't have to be a pro to give mountain biking a shot!
Just ask our buddy, infamous free-rider Kyle Jameson, who gave us some details about how his mountain biking career started in a previous article.
RELATED: Find More About Kyle's Story Here
Simply put, the sport of mountain biking wouldn't be what it is in Central Oregon without COTA.
They have been caring for bike trails since 1992 when mountain biking wasn't a well-known sport like it is today.
The sport was in its infancy, and the lack of trails made it difficult for people to pick up mountain biking.
That inspired COTA to work with local land managers and organize groups of volunteers to build the vast network of trails we now enjoy in and around Bend.
COTA also provides critical education around trail etiquette.
And their work still continues. It's awesome that we have folks in the community who bring people together to pitch in and get it done!
Altogether, they have contributed more than 3,200 volunteer hours to preserve the mountain biking trails in Oregon.
I think it's safe to say that without COTA, Central Oregon would not have become the international mountain biking destination it is today.
We have people from all over the world come to experience our trails.
With all the pandemic restrictions, some trail projects are moving slower than usual. Still, COTA is continuing their incredible work so we can all continue to have fun in the great outdoors.
Let's help them continue their mission!
Buy your tickets NOW! They're just $5, and you *could* WIN a Transition PBJ!
Bikes Change Lives
You read that right – bikes really do change lives.
We wanted to donate another bike to the community this year because we were so inspired by Ablis' 2019 'Follow Your Ablis' Bike Scavenger Hunt.
Each week in June last year, we created a scavenger hunt that challenged participants to find a token that could be exchanged for a mountain bike.
One lucky Ablis fan, Brandon, was one of the winners and he said it transformed his life.
Check out this message he sent us: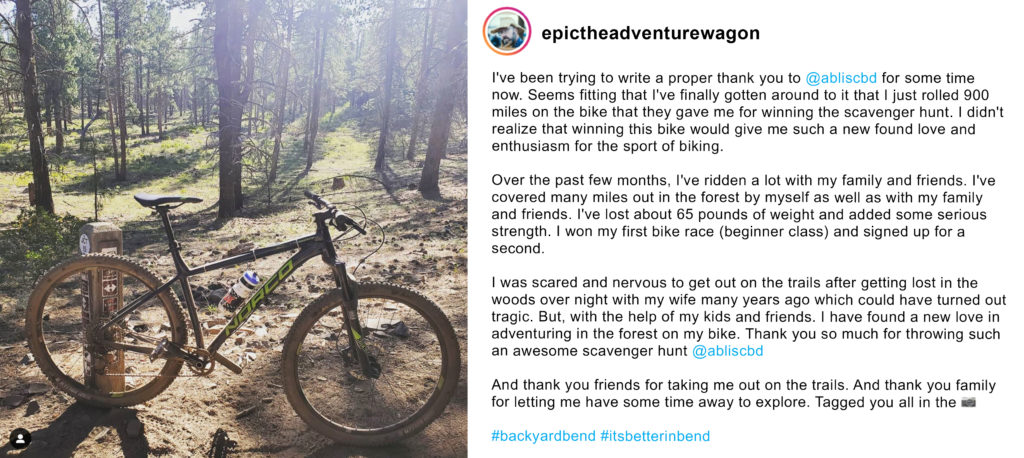 I love how Brandon was able to get back to nature, improve his health, and discover a lasting love for this sport.
We want every person in our Ablis community to experience that!
Mountain biking truly is a great way to live your best life. It gets you outside and moving, and you get the chance to explore places you may have never seen otherwise.
RELATED: How I Stay Active With CBD
It's stories like Brandon's that keep us going at Ablis.
As a company, we care immensely about the health, happiness, and wellbeing of our customers.
It's the literal "why" behind everything we do, whether we're creating new CBD products, figuring out how we can give back to our community, or inspiring others to get out into nature.
We want to encourage everyone to take care of themselves and their health by staying active this summer.
Join us to support this outstanding organization that has made Bend, Oregon, the incredible mountain biking community it is today!
Support COTA by entering the Ablis 2020 Bike Raffle! Get your ticket by Aug. 20, and you could be the lucky winner of a brand new Transition PBJ!