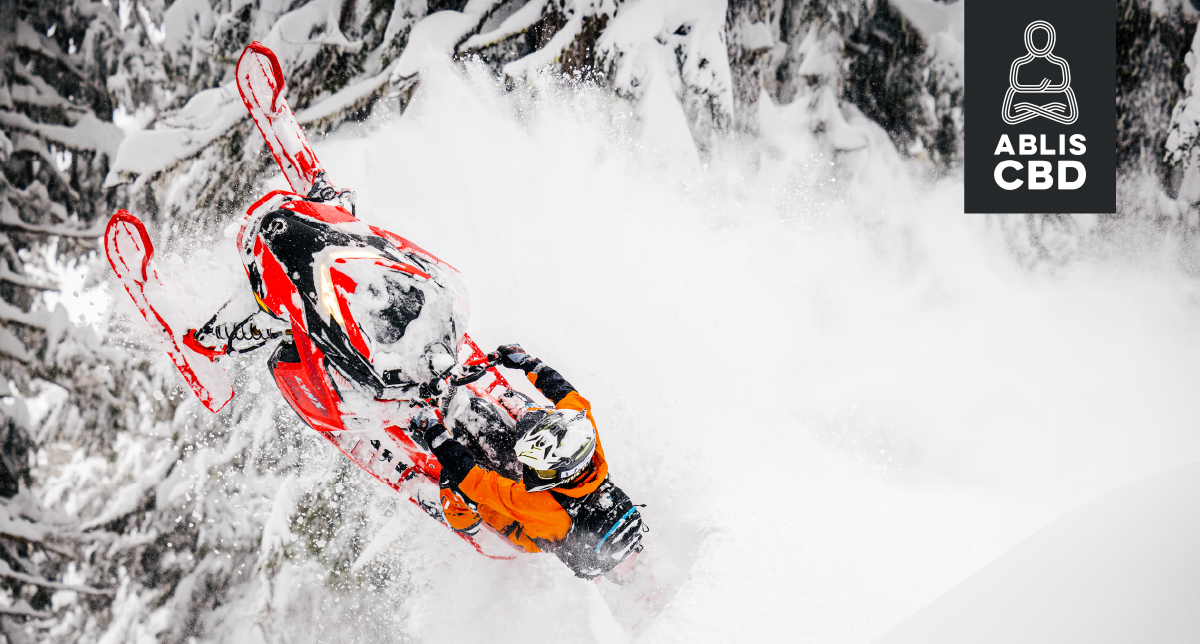 Professional Snowmobiler Ross Robinson Talks CBD For Athletes
CBD For Athletes Like Ross Robinson
Ross Robinson grew up snowmobiling. He doesn't remember his first time on a snowmobile, but getting out on the snow at a young age sparked a passion in Ross that continues to this day. As a professional athlete and Ablis fan, Ross also knows the benefit of CBD for athletes.
"I used to ride double in front of my dad when I was really young," he said, "but I didn't really get hooked on it until I was a teenager and was big enough to ride my own snowmobile."
When Ross entered his teens, it was "game on," he says. Now he's in his mid-20s and is an established professional snowmobiler and content creator. He often works with companies like Lynx Snowmobiles to create content for his followers (on YouTube, he has 19k followers; on Instagram, his follower count is almost 57k).
"I've really enjoyed creating fun and engaging content for my followers," Ross said. "That's where my focus will be for the foreseeable future, both in and out of the snowmobile world."
Ross highlights fellow snowmobilers in "509 Sled Update," a YouTube show that showcases insane clips of professionals snowmobiling (also known as sledding). Most of Ross's content revolves around snowmobiling, but he hopes to branch out into other similar sports.
Taking His Skills Off The Slopes
As an opportunity hunter, you never know where he might go once something seizes his interest—just as he's done with his snowmobiling career.
After learning the ropes from his father and traversing the slopes on his own as a teen, Ross took his snowmobiling to the next level and spent six seasons working at Burandt's Backcountry Adventure (BBA). This, he says, was "really the springboard for a lot of opportunities in my career."
He began working at BBA as a support guide, then spent time running his own groups as a lead guide. During his last few seasons working at Burandt's, Ross managed the brand's media alongside his guide duties. Unfortunately, the time commitment of being a lead guide kept him from his other passion: hitting the slopes on a snowmobile wherever, whenever.
Ross posted a video on his YouTube channel sharing the ins and outs of his choice to leave BBA for new opportunities, but ultimately, he chose to combine his media experience with his love for snowmobiling to embark on a new career path: working for himself, creating really cool content.
"My biggest accomplishment [to date] is being at a point where I can put together cool projects and make them happen, usually while getting paid in the process," Ross said. "That's what I hope to continue to do for years to come."
During his snowmobiling career thus far, Ross has explored multiple places across North America, along with excursions overseas to Sweden and Chile. Chile was especially unique, he says, because of the culture and the time of year—While it was 100 degrees at home, he was riding in fresh snow, discovering new zones.
CBD For Athletes Helps To Reset
Now, Ross stays busy creating content, sharing highlights from the snowmobiling world, and dropping bits of knowledge about all things sledding. He even has a podcast in the works. Each morning, he says, he kicks off the day with something that puts him in the right mindset: Ablis CBD & MCT in his coffee.
"The variety of products Ablis has is a big win for me," Ross said. "Whenever I need a refresh, I'll enjoy an infused sparkling water, and then I'll use some muscle rub after a session at the gym or a day in the mountains." Ross is a perfect example of CBD for athletes used to both renew and recover.
When he's not out on the snow, Ross takes time to watch actions sports (usually to gain future project inspiration and to plan future adventures), catching up with friends, and occasionally grabbing the Xbox controller to remind everyone that he still can "dominate on the sticks" like back in his teenage days.
Of course, Ross is still dominating it on the slopes like he did when he was a teen, too. Out there in the mountains, it's just "myself, my sled, and endless terrain," he said. That's really part of the appeal.
"[Snowmobilers] have the freedom to go wherever our skills can take us, traversing massive ridgelines, climbing up steep and dark creek bottoms," Ross said. "The exploration is endless, and it's exploration at 30 miles per hour while flying and jumping off everything imaginable."