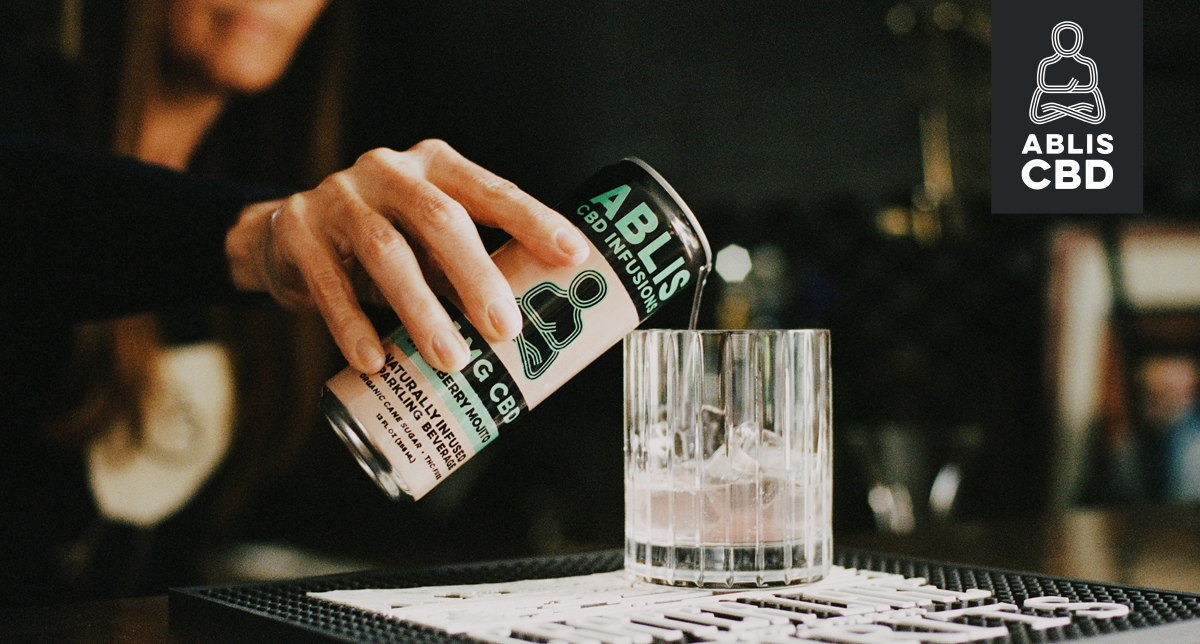 CBD Cocktails: How to Make a CBD drink At Home Using Ablis
It's summertime, but, because of COVID, it doesn't quite feel like it.
Social distancing is hard, and I think we're all starting to feel a little worn out. But don't let stir-craziness turn into anxiety!
It's healthy to take a break from everything that's going on. At Ablis, we recommend getting outside and staying active, before heading into full relaxation mode.
That's why I'm sharing five CBD cocktail recipes that you can make right at home using Ablis! We also got a little help from our sister company, Crater Lake Spirits, to really amp up the flavor in each of these drinks.
So grab your tumbler, and then sit back and relax Ablis-style!
1. CBD Strawberry Mint Julep
This cocktail is our twist on a springtime classic, the mint julep. It's the official drink of the Kentucky Derby, and, as a Louisville native, it's always first on my list during the spring. The Derby was postponed to the fall this year, but this drink will take you there!
Ingredients:
1 cup crushed ice

1 lime wedge

Fresh mint for garnish
Instructions:
Pour the crushed ice into a tumbler

Add Ablis, along with the whiskey and give it a light swirl

Add a squeeze (or two or three) of lime and stir

Transfer the drink into a glass and top it off with fresh mint!
2. Spicy CBD Vodka-Cran
This one is a favorite at Ablis Experience in Portland. And using Crater Lakes Spirits' one-of-a-kind Hatch Green Chili Vodka takes it to the next level. We balance out the spice with some acidity from Ablis Cranberry Blood Orange, along with a little extra sweetness from the vanilla.
Ingredients:
.5 oz Vanilla Syrup

½ lime, squeezed

Twist of orange rind
Instructions:
Pour the vanilla syrup into your tumbler

Add Ablis, hatch green chili vodka and lime juice and stir

Transfer the drink into a glass and garnish with the orange rind
3. The Ablis Pain Killer
I like this one because it's a creamy, fruity cocktail that packs a punch. Pairing coconut cream with Ablis MCT Oil, which is extracted from coconut oil, leaves a nice, smooth foam on top. Plus, you still get the added benefits of CBD.
The Pain Killer is perfect for being outside on a hot, sunny day. We often make this one at events for Crater Lake Spirits, and it's a crowd favorite!
Ingredients:
1 TSP

Ablis MCT Oil

6oz Spiced Rum

1 TSP Coconut Cream

Crushed Ice

Orange Juice

Pineapple Juice

Nutmeg (freshly grated or ground)
Instructions:
Combine Ablis MCT Oil and coconut cream in a tumbler, and shake until fully blended

Add splashes of orange and pineapple juice, along with a handful of ice

Shake until frothy and transfer into a glass

Sprinkle nutmeg over the foam to garnish
4. CBD Triple Ginger Mule w/Cardamom Sugar
This one is for all the ginger lovers out there. This cocktail combines three forms of ginger to make one spicy meatball… I mean, cocktail. Topping it off with cardamom sugar, black pepper, and sea salt lends an intriguing aroma and unique taste to this drink.
Our customers in Bend, Oregon, will recognize the rim salt's spice profile because it's inspired by another local favorite, the infamous Ocean Rolls from Sparrow Bakery.
Ingredients:
10oz

Ablis Lemon Ginger

Candied Ginger

1 TBSP White sugar

Ground Cardamom to taste (a little goes a long way)

1 Pinch Black Pepper

1 Pinch of Sea Salt
Instructions:
Finely chop candied ginger with a knife or food processor

Combine candied ginger, Ablis Lemon Ginger and ginger vodka in a tumbler

Lightly swirl and set aside

Mix a dash of cardamom, a pinch of sea salt, and a pinch of black pepper into the sugar

Pour the sugar and spice mixture onto a flat surface

Wet the rim of your glass with a dampened paper towel, and dip it into the sugar mixture

Use a filter to strain your ginger concoction as you pour it into the rimmed glass
5. CBD Berry Seltz
This is the easiest cocktail of the bunch! It's like a light alcoholic seltzer, but with CBD too! Using Crater Lake Spirits Northwest Berry Vodka gives you the fullest berry flavor with our signature blend of strawberries, raspberries, blueberries, and marionberries– all natives of the Pacific Northwest.
Ingredients:
Instructions:
Combine Ablis Blood Orange with the berry vodka in a tumbler

Gently stir until fully combined

Cut the lemon in half

Add the juice from one half of the lemon and stir

Slice the other half of the lemon into wedges and use for garnish
Ablis makes it super easy to incorporate CBD into your favorite cocktails, and there's something for everyone on this cocktail list. We love hearing from our customers, so let us know what you think of these recipes!