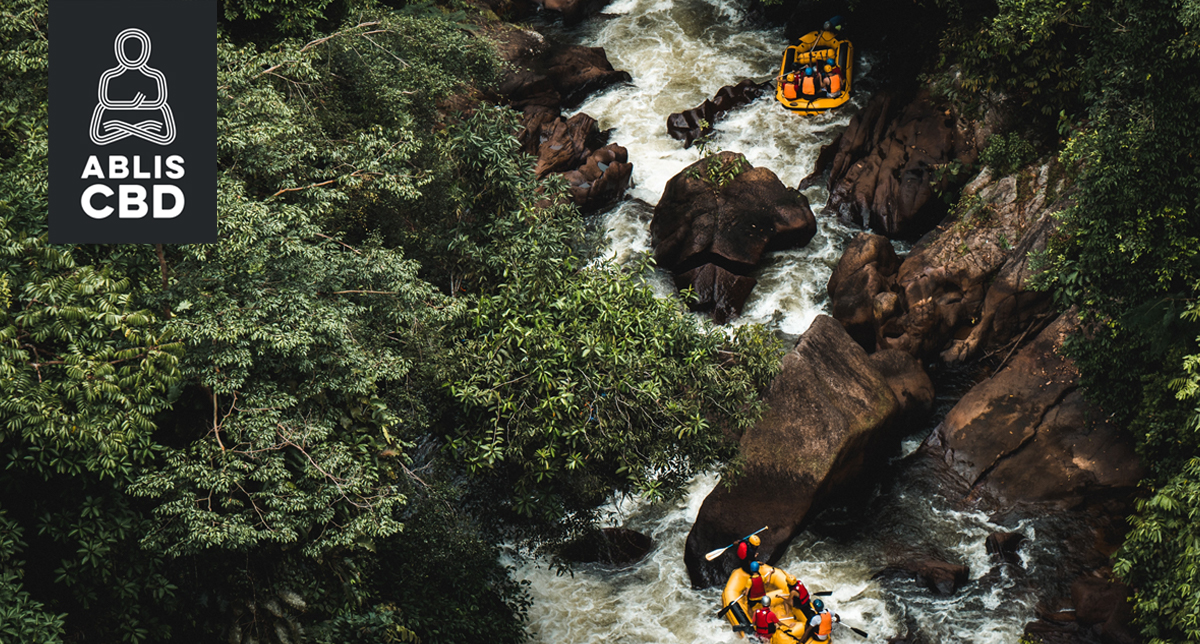 River Rafting In Oregon and Washington? Try These Places With CBD Beverages In Hand.
By the Ablis CBD Team
Here at Ablis, we're big fans of outdoor adventures. Hiking, trail running, rock climbing, skiing, you name it. One of our favorite ways to blow off steam (when the weather is right) is river rafting in Oregon and Washington—with our CBD beverages in hand, of course.
Whether it's your first time on the river or your hundredth, you won't want to miss a rafting adventure in the Pacific Northwest along these four rivers: the White Salmon, the Skykomish, the Rogue River, and the Skagit.
1.White Salmon River
Class III – IV
This gorgeous area of the Pacific Northwest is protected under the Wild & Scenic Rivers Act and includes a winding river that spans almost 30 miles, with rapids ranging from class III difficulty (rapids with irregular waves) to class IV (where you'll have to perform complex maneuvers over difficult rapids).
Some sections of this narrow river are suitable for all levels, but for some, you'll want to be able to swim! Fortunately, there are plenty of guided rafting experiences available. Wet Planet WhiteWater boasts an exciting trip that culminates with a plummet down Husum Falls (a waterfall drop that's sure to make your heart race).
White Salmon River is just north of the Oregon/Washington border, near the little towns of Hood River and White Salmon. The cities are across the river from one another, even though one is in OR and one is in WA. Both towns have an amazing little local scene, making this a great option for a weekend trip: rafting one day, exploring the next. Pro tip: bring your Ablis CBD beverages and Muscle Rub along for the trip.
2. Skykomish River
Class IV – V
One look at this river, and you'll see why it was the first to be included in the Washington State Scenic River System. The Skykomish is giant compared to the White Salmon, and it contains house-sized boulders that create massive waves between its banks.
If you want an advanced whitewater rafting experience in the Pacific Northwest, this one is a must—especially the Boulder Drop rapid. Your heart is bound to start racing as you approach this stretch of river in your raft!
After navigating the class V rapids that may or may not knock you out of your boat, take a moment to look up and soak in the views: River banks that are lined with lush trees like firs, cedars, and maples; Mount Index and Mount Persis' snowy mountaintops towering above the treeline.
For those who want to experience the views without the heart-pounding rapids, check out Alpine Adventures' Family Floats, an 8-mile trip that flows downstream from Big Eddy State Park. You can even check both off your bucket list by making it a weekend trip with a cabin stay at Harmony Lodge or Skykomish River Lodge.
3. Rogue River
Class II – IV
Choose between a multi-day or one day trip down one of the first rivers to be protected by the Wild & Scenic Rivers Act: the Rogue River in southwestern Oregon. It's an exciting whitewater rafting experience, whether you camp alongside the river, stay in lodges along the way, or only stay on the water for a day.
In the past, this river was a go-to vacation destination for Hollywood stars like Clark Gable. Although he may not have gone rafting, it's understandable why the remote wilderness was appealing to those of fame and fortune: Peace, quiet, and excitement of the rapids.
The Rogue River is lined with old forests, canyons, interesting rock formations and several exciting twists and turns. You can join in a group adventure on the Rogue River, or (if you're experienced) tackle the remote and challenging whitewater as a private, self-guided group.
4. Skagit River
Class II – III
If it's your first time whitewater river rafting, or if you're planning a trip with someone who's nervous about taking a tumble in the rapids, take a scenic float along the Skagit River (another Wild and Scenic River). You'll be able to test your skills navigating the class III S-curves along your 9 to 10 mile journey, but these waves are playful, unlike others that you might encounter on rafting trips in the Pacific Northwest.
You'll find the Skagit in North Cascades National Park, one of the least visited national parks in the country. It's remote, and it's gorgeous…especially Diablo Lake, the lake that feeds the Skagit River. The water is an unrealistic tint of blue, and it's surrounded by 3,000 foot mountains covered with fir trees.
Needless to say, it's a sight to see, and it's worth making your way through the rapids to get there. Fortunately, this is one of the easiest rafting adventures on this list, and there are plenty of groups that offer guided tours. Whether you're introducing your kiddo to whitewater river rafting or you're gathering a group of friends for a weekend adventure, the Skagit is a great river to explore.
After exploring the rivers of Oregon and Washington with your Ablis CBD beverages, check out a few tips from our friend Renee about how to relieve sore muscles. It's always important to unwind after a day of working out, whether it's out on the slopes, or on the river. Enjoy your Pacific Northwest adventure navigating the rapids!