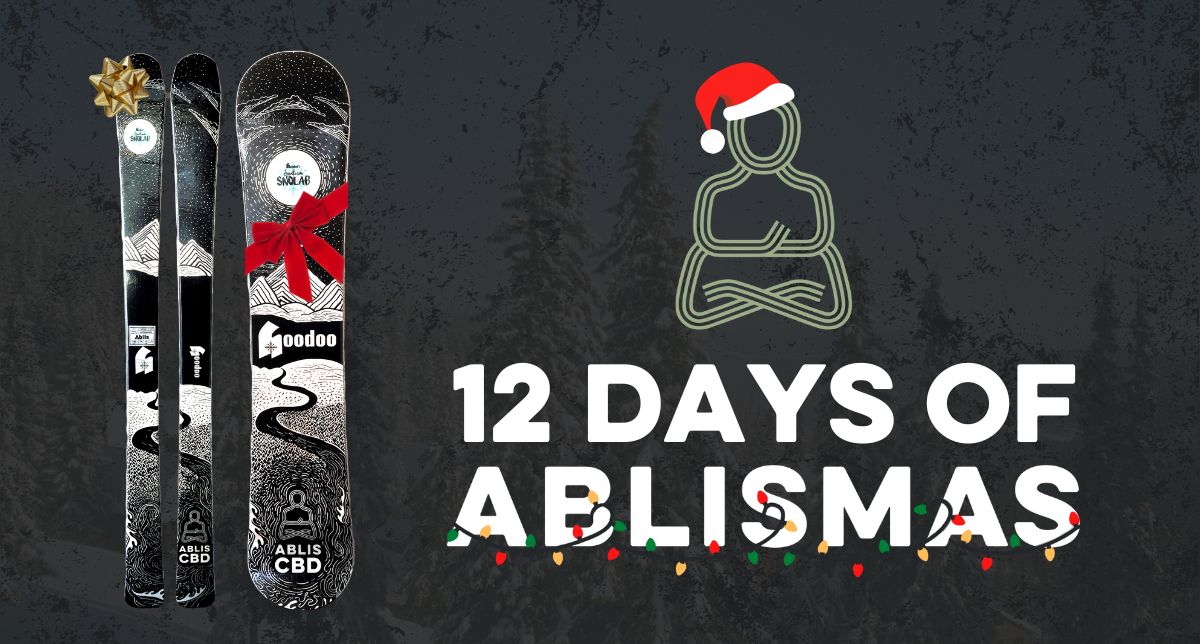 The 12 Days of Ablismas Are Back And Bigger Than Ever
Once again, Ablis CBD is rolling out the red carpet for a holiday contest like no other. The 12 Days of Ablismas are back.
What's Ablismas?
Ablismas is a contest sponsored by yours truly. We're Ablis CBD, a Bend-based maker of CBD infusions, concentrates, and topicals. If you've never tried CBD, Ablismas is an easy way to get your hands on our products and celebrate stress-free living just in time for the holidays. And since we're in the giving spirit, we're doing Ablismas bigger than ever before—almost 50 entrants will score a chance to win up to $12k+ in prizes. And that's just because we like you.
The 12 Days of Ablismas Prizes Are Stacking Up
Daily prizes include giveaways from Ablis CBD and partners, with a big finish of THREE GRAND PRIZES courtesy of Santiam SnoLab and Hoodoo Ski Resort.
Here's a teaser of this year's grand prizes:
A pair of custom All-Mountain Ablis-branded skis (valued at $800) + 2 All Day Lift Ticket Hoodoo Ski Passes (valued at $140)

A custom All-Mountain Ablis-branded snowboard (valued at $800) + 2 All Day Lift Ticket Hoodoo Ski Passes (valued at $140)

A pass to Santiam SnoLab to fully customize and design a brand new pair of skis or snowboard (valued at $700-800) + a 5-Day AnyCard Hoodoo Pass (valued at $350)
Score Free Camping Gear, Hoodoo Passes, Winterfest Tickets, And More!
If you thought there were only three chances to win, think again! We'll be choosing daily winners from December 1-12. We've put together a killer list of adventure-inspired prizes courtesy of Ablis CBD and some of our favorite PNW partners. From bevvie coats and Koozies to Hoodoo passes and camping gear, every prize was hand-picked to support your on-the-go lifestyle.
The Rules And Stuff
So, how do you play? You can think of it as the Olympic games of holiday giveaways. Hit this link to find the giveaway. Once you're there, you've got over a dozen one-time and daily actions you can take to rack up entries. Make sure to also follow us on Instagram and Facebook for prize sneak peeks and announcements.
Here's what we'll be giving away to two winners a day:
Ablis Sample Pack

[includes

a mixed 12-pack of CBD waters, (1) 2oz Rub, (5) Muscle Rub Squeeze Packs, (5) MCT Squeeze Packs, (6) 50 mL shooters].
Two more winners a day will get the above Ablis sampler PLUS a prize from our featured partner of the day. By the end of the 12th day, we'll have awarded nearly 12k in prizes to almost 50 entrants!
How Many Times Can I Enter Ablismas Giveaways?
There are both one-time and daily actions you can use to earn entries. We recommend taking advantage of the one-time entries ASAP and checking back daily to earn extra entries. These daily actions include things like liking our daily Instagram posts and sharing posts and videos that feature your favorite Ablis products. If you complete all of the one-time and daily entries, you can earn 36+ opportunities to win!
Can I Win More Than One Prize?
Yes! We're randomly selecting winners every day. The more entries you have, the higher your chance of being selected. And even if you've won already, we'll keep you in the running for daily and grand prizes.
Can I Earn Any Of My Prizes In Cash?
Nope, it's just a product giveaway. But we've got a haul of stuff, so if you're into Hoodoo passes and dope gear, you'll love what you win!
How Do I Increase My Odds Of Winning?
The more entries you have, the more likely you are to be randomly selected. To maximize your odds of winning, make sure to check all of the one-time entry methods of your list (signing up for our newsletter, following our partners on Instagram, learning more about Ablis) and then check back daily for the entry methods you can do once per day (share an image of yourself with your favorite Ablis product, like our daily Instagram post).
Merry Ablismas from Ablis CBD, And The Best Of Luck!
Take your shot to enter to win some incredible free gear and amazing Ablis products from December 1 through the 12th! We support getting you out there to experience the stoke, whether that's shredding on a new board at Hoodoo, or winter camping with your new gear from Poler and Rovr. So what are you waiting for? Spread the word and help a friend win. All in all, it's shaping up to be a very good Ablismas indeed.
A nod to our incredible partners who are making this many giveaways possible: Hoodoo Ski Resort, Puffin Drinkwear, Rovr Coolers, Poler Camp Gear, Hillside Ski and Snowboard, Oregon Winterfest, Cascade Armory, and Crater Lake Spirits. Also, shout out to the designer of our custom boards, Moe Moscatosca! Peep his other design work over here.